Best cards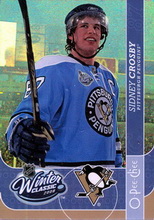 Entry to NHL: 5. June 1967
First season: 1967-68
Stadion: CONSOL Energy Center, 18.087 visitors
Address: 1001 Fifth Avenue, Pittsburgh, PA 15219
The greatest successes: Stanley Cup 1991, 1992, 2009, Presidents Trophy 1992, Prince of Wales Trophy 1991, 1992, 2008, 2009

1974: Pierre Larouche (8th overall)
1983: Bob Errey (15th overall)
1984: Mario Lemieux (1st overall)
1990: Jaromir Jagr (5th overall)
1992: Martin Straka (16th overall)
2003: Marc-Andre Fleury (1th overall)
2004: Evgeni Malkin (2nd overall)
2005: Sidney Crosby (1th overall)
2006: Jordan Staal (2nd overall)

Art Ross Trophy
Mario Lemieux: 1987, 1988, 1991, 1992, 1995, 1996
Jaromir Jagr: 1994, 1997, 1998, 1999, 2000
Sidney Crosby: 2006
Evgeni Malkin: 2009
Bill Masterton Memorial Trophy
Lowell MacDonald: 1972
Mario Lemieux: 1992
Calder Memorial Trophy
Mario Lemieux: 1984
Evgeni Malkin: 2006
Conn Smythe Trophy
Mario Lemieux: 1991, 1992
Evgeni Malkin: 2009
Why was the team named the Penguins?
There was a lot of work to be done, of course, and one of the first tasks was naming the team. (Part-owner Peter) Block was adamant that it would not be called the Hornets. "There was some (support) for it, but I basically said I wouldn't allow it," he said. "The Hornets were a minor-league team. I knew we were going to get some bad players (in the expansion draft), and I didn't want to be called just another minor-league team."
The obligatory newspaper contest was launched in the Post-Gazette, but (part-owner Jack) McGregor's wife, the former Carol Dangerfield of Edgewood, had already found one she liked.
"When Jack got the franchise, he was so thrilled," she remembered. "Then he said, 'Oh my gosh, we've got to name it.' I said, 'I love to think of things like that.' I was thinking of something with a P. And I said to Jack, 'What do they call the Civic Arena?' And he said, 'The Big Igloo.' So I thought, ice. . . Pittsburgh. . . Penguins.
"We talked about other names, but we kept coming back to the Penguins. Our friends really liked it. We pictured the uniforms being black and white."
McGregor believes word of ownership's choice leaked out, which explained why more than 700 of the 26,000 contests entries bore the name Penguins. Ownership's choice was announced on Feb. 10, 1967, and five days later the name of Emily Roberts of Belle Vernon was drawn as the contest winner, making her the first Penguins' season ticket holder.
Notes from Bob Grove: There was some serious opposition to the name, even by members of the management. GM Jack Riley didn't like it at all. Riley, by the way, was the guy who gave the Penguins' first uniforms their colors: Columbia Blue, Navy Blue and white. They copied the colors of the famed St. Michael's Majors junior team in Toronto.
Source
There is a table of actual roster of team Pittsburgh Penguins from official website. After click on the players name will be show cards of player in my collection.
Forwards
#
Player
Height
Weight
Age
Birthplace
Salary
9
Pascal Dupuis
6' 1"
205
31
Laval, QC, CAN
1,400,000
11
Jordan Staal
6' 4"
220
22
Thunder Bay, ON, CAN
3,500,000
10
Mark Letestu
5' 11"
195
25
Elk Point, AB, CAN
500,000
14
Chris Kunitz
6' 0"
193
31
Regina, SK, CAN
3,800,000
15
Dustin Jeffrey
6' 1"
205
22
Sarnia, ON, CAN
500,000
17
Michael Rupp
6' 5"
230
30
Cleveland, OH, USA
850,000
18
Chris Conner
5' 8"
180
27
Westland, MI, USA
550,000
19
Mike Comrie
5' 10"
185
30
Westland, MI, USA
500,000
24
Matt Cooke
5' 11"
205
32
Belleville, ON, CAN
2,150,000
25
Maxime Talbot
5' 11"
190
26
Lemoyne, QC, CAN
1,050,000
27
Craig Adams
6' 0"
197
33
Seria, BRN
550,000
28
Eric Godard
6' 4"
214
30
Vernon, BC, CAN
775,000
45
Arron Asham
5' 11"
205
32
Portage La Prairie, MB, CAN
700,000
48
Tyler Kennedy
5' 11"
183
24
Sault Ste. Marie, ON, CAN
725,000
71
Evgeni Malkin "A"
6' 3"
195
24
Magnitogorsk, RUS
9,000,000
87
Sidney Crosby "C"
5' 11"
200
23
Cole Harbour, NS, CAN
9,000,000
Defensemen
#
Player
Height
Weight
Age
Birthplace
Salary
3
Alex Goligoski
5' 11"
180
25
Grand Rapids, MN, USA
1,500,000
4
Zbynek Michalek
6' 2"
210
28
Jindrichuv Hradec, CZE
4,000,000
5
Deryk Engelland
6' 2"
202
28
Edmonton, AB, CAN
500,000
6
Ben Lovejoy
6' 2"
215
26
Canaan, NH, USA
525,000
7
Paul Martin
6' 1"
200
29
Wilmington, DE, USA
5,500,000
44
Brooks Orpik
6' 2"
219
30
San Francisco, CA, USA
3,750,000
58
Kristopher Letang
6' 0"
201
23
Montreal, QC, CAN
3,500,000
Goalies
#
Player
Height
Weight
Age
Birthplace
Salary
1
Brent Johnson
6' 3"
199
33
Farmington, MI, USA
600,000
29
Marc-Andre Fleury
6' 2"
180
25
Sorel, QC, CAN
5,500,000