Best cards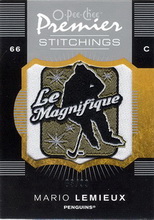 Hockey cards EXPO - Bratislava 2011
On May 7, 2011 was hockey cards EXPO in Bratislava on the occasion of Hockey Championship 2011. You can read more here.


The most famous hockey trophy came to the Czech Republic again on 29.8.2009. Petr Sykora showed the trophy this year. As a fan of Pens I could not miss this occasion. More you can read here.


History of hockey cards...
The first hockey cards were made on the beginning of 20th century, exactly during 1910-1913 under mark (name) C55. The other cards producing stopped the World War I. After that, the serie of 40 cards was published in 1924-25, which was a part of cigarettes, many chocolates or chewing-gums. This developement continued to 1941, when cards were printed largely by OPC company. After the World War II the cards began to form in that way, which we know today and one of the first producer was foregoing OPC company. In 1951 Parkhurst company came on card market and in 1954 Topps. In the nineties there were Pro-Set company, Pinnacle, Upper Deck, Pacific, Fleer, ITG, etc. The other revolutionary break was introduced by Upper Deck in 1995, when they put in a little bit of hockey jersey. Now a new era of hockey cards begins as for type (for example jersey cards, limited or autograph, etc.). Today thanks to combination of these cards types we can see cards extremely expensive. Now we can ask, how will developement be in next years?
Web is devoted to collection of hockey cards and souvenirs for my favourite team of NHL - Pittsburgh Penguins. I began to collect in 1991. From the beginning I collected all cards, which I liked. After watching a few matches Penguins, including play-off, when they won Stanley Cup, I decided to cheer and collect only cards of this team. For collector there is also a possibility to choose cards from my tradelist or to offer me the cards, which aren´t in my collection.

In menu Exchange you can find cards for sell or exchange for cards in my wantlist.

In section Collectors there are the contacts for hockey collectors cards, which I have during my collector´s career met.

After link News you find cards, which have been added to my colection recently.
1) Easier collection expanding because of this presentation.

2) Presentation the collection to maximal number of people.

3) Spread number of friends with similar hobby.

4) Help other collectors to organization of their hobby.

5) Learn something about programming www pages.
Icon/Banner/Links for your pages
Do you have your own web sites? Do you want add link to this web on your sites? Choose some source code below or write me an email and I create other source code especially for you. I can also add your Icon or Banner to the end of this page.
Icon:
Code to past into your page:
<a href="http://www.penguins-hockey-cards.com" title="Penguins hockey cards collector">
<img src="http://www.penguins-hockey-cards.com/pictures/icon.gif" border="0" width="209" height="41" title="Penguins hockey cards collector" alt="penguins-hockey-cards.com" ></a>
Banner:
Code to past into your page:
<a href="http://www.penguins-hockey-cards.com" title="Penguins hockey cards collector">
<img src="http://www.penguins-hockey-cards.com/pictures/banner1.gif" border="0" width="419" height="60" title="Penguins hockey cards collector" alt="penguins-hockey-cards.com"></a>
| Hypertext link: | Code to past into your page: |
| --- | --- |
| Penguins hockey cards collector | <a href="http://www.penguins-hockey-cards.com" title="Penguins hockey cards collector">Penguins hockey cards collector</a> |
| Hockey cards | <a href="http://www.penguins-hockey-cards.com" title="Penguins hockey cards collector">Hockey cards</a> |
| Karel Sevcik | <a href="http://www.penguins-hockey-cards.com" title="Penguins hockey cards collector">Karel Sevcik</a> |