Best cards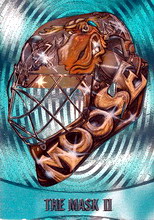 Hockey cards EXPO - Bratislava 2011
Last year May 7, 2011, on the occasion of the World Ice Hockey Championship in Bratislava there was hosted International Sportcard & Memorabilia Expo of hockey cards. As big fans of the Pittsburgh Penguins team we could not resist this opportunity, and so we went on a trip. The first major expo in this place was held June 12, 2010. The event was visited by about 30sellers and 100 visitors. Exchange Stock was very well organized included the lottery, which contained the very valuable prius in the form of collectibles (cards, caps, shirts, ...). This year it was expected a larger number of visitou thanks to the great publicity not only in the magazines but also on the Internet itself.

We went early in the mening to take the best selling table. Attendance was very mundant at arend 200 people. They are traded, changed and bargained. We managed to komplete our collection of Penguins hockey cards with few rare pieces.




After finish of stock we went to have a lunch to the center of Bratislava. And there happened an interesting event, that some people offered the tickets on evening match Czech Rep. vs Russia. We have not hesitated any sekond and bought the tickets. To get tickets on these games was very difficult because they were sold out in minutes. The match was played up in the evening, so we had plenty of time for sightseeing. We visited several monuments such as the Bratislava Castle, bridge SNP with famous restaurant UFO, Hviezdoslav Square and Slovak National Theatre.

In the evening we finally after a long watt in the queue got imide the stadium. It was hopelessly sold out. The atmosphere was amazing. It was a great match, our czech national team beat rivals from Russia very closely 3:2. After the match we went back home fully of amazing experiences.

&nbsp


In two years, will be the world championship in ice hockey hold in our Czech Republic, and so we hope that we can repeat this experience again. Again, there will be also preparing of large expo, where we expect the large attendance. This is why would fans of collecting hockey cards should not let this oportunity escape. We look forward to possible meetings on this event.