Best cards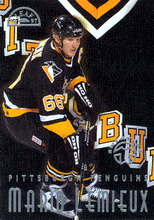 10.02.2018, 11:12:19
Josef
Dobrý den, mám hokejové sběratelské karty na prodej. Například - Pavel Bure 1994 -95 na pinnacle edice Gamers GR4, Eric Lindros 1994 - 95 parkhurst karta 1 - 6(Hart trophy), Mikael Renberg edice Lamp Lighters - 1994 - 95, Eric Lindros - parkhurst en Edice, Edice CHAMPS 9 - 15karet Roger Johansson(No.2347), Skybox 1995 Shanahan edice Ntense Power. Prodám pro sběratelé kartíček. Kontakt - 608 212 356. Josef(PRAHA)
23.08.2017, 19:54:09
Mike Marchese
nikemikey222005@yahoo.com
Great page and GREAT COLLECTION!! very cool stuff. I live near Pittsburgh and I collect a couple of the same players as you
27.04.2017, 15:23:18
Afectus
afectus@seznam.cz
Krásná sbírka karet, škoda jen, že si člověk na některé kousky nemůže alespoň sáhnout :-D... No, to by jich tu moc nezbylo :-D Držim palce.
13.06.2016, 07:59:07
Jeffrey Levine
jeffrey@levineonline.com
Pens back on top, where they belong, hoisting Lord Stanley's Cup... with Dominik Simon, from Czech Republic, on the roster.
26.02.2016, 03:32:01
mike
m.bowen@hotmail.com
i have a panini limited manufacturers mark 1/1 marc andre fleury 12-13 open to offers
05.06.2015, 19:11:10
nick
hockeystats@live.ca
I have a 2013-14 upper deck artifacts malkin/neal/fleury black tag card 1/1. if anyone is interested email me. serious inquires only!
26.03.2015, 03:20:15
Mark
avsbruins65@yahoo.com
I am really impressed with your website. What did you use to keep track of your collection and to give you that many options for searching?
24.01.2015, 21:08:50
karel
kaker00@seznam.cz
Ahoj,
sháním karty ze série Wien 96,
koupím, nebo vyměním za jiné karty,
nabídky a chyběnky posílejte na kaker00@seznam.cz