Best cards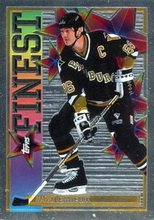 13.06.2016, 07:59:07
Jeffrey Levine
jeffrey@levineonline.com
Pens back on top, where they belong, hoisting Lord Stanley's Cup... with Dominik Simon, from Czech Republic, on the roster.
26.02.2016, 03:32:01
mike
m.bowen@hotmail.com
i have a panini limited manufacturers mark 1/1 marc andre fleury 12-13 open to offers
05.06.2015, 19:11:10
nick
hockeystats@live.ca
I have a 2013-14 upper deck artifacts malkin/neal/fleury black tag card 1/1. if anyone is interested email me. serious inquires only!
26.03.2015, 03:20:15
Mark
avsbruins65@yahoo.com
I am really impressed with your website. What did you use to keep track of your collection and to give you that many options for searching?
24.01.2015, 21:08:50
karel
kaker00@seznam.cz
Ahoj,
sháním karty ze série Wien 96,
koupím, nebo vyměním za jiné karty,
nabídky a chyběnky posílejte na kaker00@seznam.cz
18.11.2014, 07:11:24
Russ
saupere@aol.com
I am looking for autographed color 8x10 photos of Scott Young and Peter Taglianetti in Penguin uniforms from the era when they won the 91 or 92 cups. Also looking for an autographed Jim Kyte hockey card in either a Penguin or Muskegon Lumberjack uniform.
11.03.2014, 05:31:11
billygun11
@hotmail.com
I have a 2000/01 crown royale 87 mario lemieux die cut 06/25. Recently had it graded at 9.5. I can not find this card anywhere on line searched everything. Would you know the price of this card.